Ex-Sunderland stalwart aiming to knock England out of World Cup & says pressure all on Southgate's men
Former Sunderland midfielder Sebastian Larsson has hinted he may hang up his international boots at the end of the World Cup. He's hoping that retirement won't be announced on Saturday night.
Former Sunderland stalwart Sebastian Larsson has suggested he will retire from international football at the end of the World Cup. The Swedish midfielder is hoping that announcement will be delayed a little longer if his side can overcome England in Saturday's quarter final clash.
Larsson turned 33 just before the tournament kicked off and has moved back to his native Sweden. The 100-plus capped international joined Hull last season after being released by Sunderland. This summer he has signed for Stockholm side AIK and is relishing the chance to play against the nation in which he spent half his life:
It's a game I'm really looking forward to. It's the quarter-finals of the World Cup and for me personally to be going up against England, the country where I spent 17 years, it's obviously a little bit special".
Asked if he fears this weekend's match against England could be his last for Sweden, Larsson indicated he will consider retirement from international football once the World Cup is over, saying "Yes, it is possible that it is. Hopefully there are three matches left during the World Cup".
Meeting the media to preview the game, Larsson also suggested the English press are lying in wait to lay the boot into Gareth Southgate's men if they are eliminated on Saturday afternoon:
"The press is on them. I know how it usually sounds when it starts to go well, so the pressure is on them. They see it as a thunderbolt if they go out to Sweden."
Larsson missed Sweden's game against Switzerland on Tuesday through suspension after picking up two yellow cards. He made headlines for this pose whilst celebrating his country's win. The joke being that lots of people in the world seemingly didn't know the difference between Sweden and Switzerland.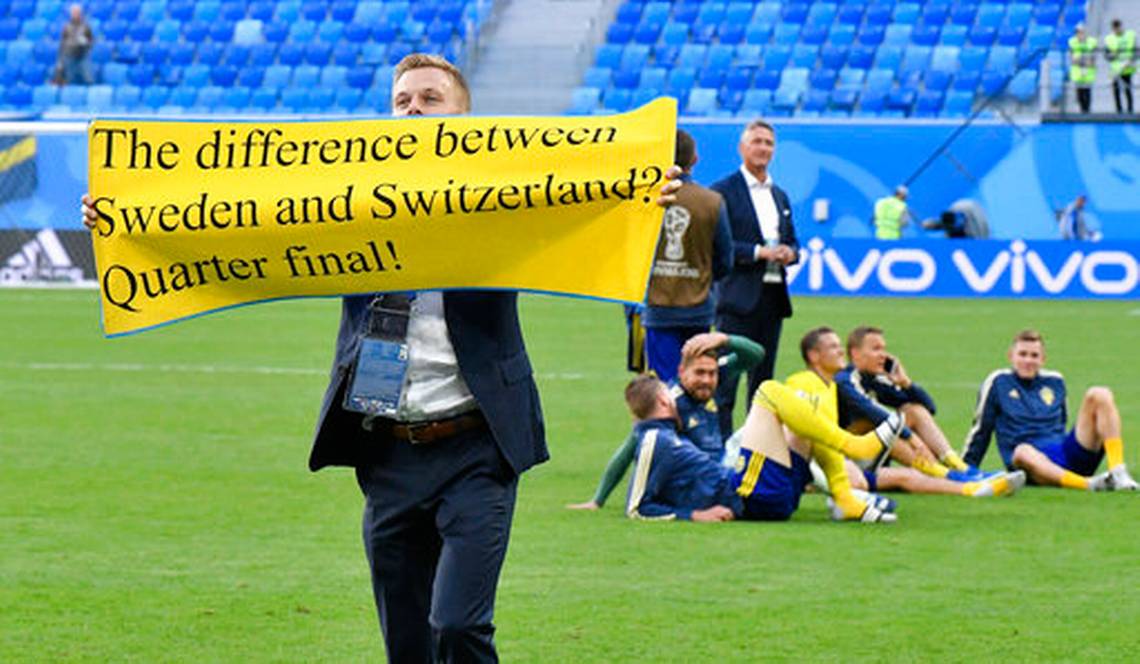 Larsson played 176 games for Sunderland in a six-year-spell. Joining Steve Bruce's Black Cats in 2011, the Swede immediately endeared himself to the Wearside faithful, scoring on his debut in a second half equaliser against Liverpool.
It wasn't always a happy spell at the Stadium of Light though with the club perpetually battling against relegation from the Premier League before succumbing to the drop in 2016 after which he was released and joined Hull City.