Fans of rival club to the one where Sunderland keeper has gone are hoping they sign Robbin Ruiter
Fans of Eredivisie side NAC Breda have been talking up their chances of signing Sunderland's Robbin Ruiter.
Been chatting to a Dutchman today. As you do. Got to make the most of our European cousins before Brexit hits after all. This fella is a fan of NAC Breda who finished 14th in the Eredivisie last season.
Apparantly, the club who are based in the south of the Netherlands have been through a tough time of late. For one thing, they were forced to face Newcastle United in 2003 - twice. Over 4,000 Geordies descended on their city back then to watch Bobby Robson's boys stuff them 6-0 on aggregate in the UEFA Cup. Just imagine the horror.
Since then they've been through a prolonged period of financial turmoil and only returned to the Dutch top flight last season after being relegated in 2015.
So as if all that wasn't enough punishment, seems they're dead keen that their club sign Sunderland's Robbin Ruiter. Their big rivals, Willem II landed our academy stopper Michael Woud today and despite recent evidence pointing to quite the opposite, these Dutch fellas seem to believe that Wearside is still a breeding ground for goalkeeping talent.
To be fair though, this Dutch fella I was talking to seems a fairly decent judge of character. This is how he described Willem II fans. They sound much like our own rivals...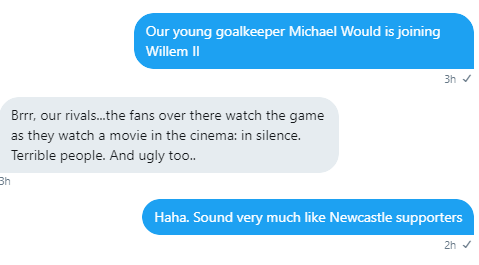 Anyway, hoping a little Pickford magic will rub off on their own club, NAC are in the market for a goalkeeper. And they're hopeful of landing an experienced one, unlike their rivals who signed our kid today. Ruiter is rather experienced in Dutch football of course. Before he signed for Sunderland, the 31-year-old played over 200 games in Holland. He was even considered quite good when he played for FC Utrecht.
You see, both of Breda's senior goalkeepers last season were rubbish. One of them has already scarpered to Denmark. They really want a stopper who is fluent in Dutch, given the comical communication problems which hampered their backline last term. The other fella they have who keeps net is once-capped Australian international Mark Birighitti who once signed for Swansea and never made a first team appearance at the Liberty (much like Joel Asoro's impending career in Wales).
Here's his crack on Ruiter...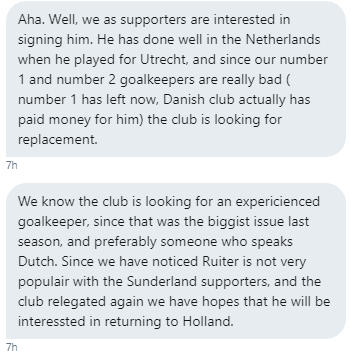 You'll understand the feeling of watching terrible goalkeepers who are incapable of communicating of course. Sunderland had three of that standard last season. Ruiter was one of them, though he was the least crappest of the trio.
To be honest, it wouldn't be a surprise to see Ruiter depart this summer. Whilst probably not earning a fortune at the Stadium of Light, he's no doubt on a mid-ranking Championship goalie's pay. And with the summer arrival of Jon McLaughlin and the painfully slow maturing of Max Stryjek, Jack Ross will probably still be able to sleep at night if Ruiter does leaves us.