Smashing Sunderland banter; wag notes curious similarity in Camp & De Gea to explain World Cup gaffe
What do high profile blunder stoppers David de Gea and Lorius Karius have in common with former Sunderland catastrophe Lee Camp?
David De Gea has hit back at critics following his blunder which handed Cristiano Ronaldo Portugal's second goal in last night's World Cup Group B encounter.
The Spain stopper says he "hasn't killed anyone" in the wake of stick from football supporters in his home country.
The gaffe meant Portugal were able to claim a draw in the Friday night game and De Gea's performance is already being compared to the error-strewn show that Lorius Karius put on in the Champions League final. The Liverpool goalie gifted Real Madrid two goals as they claimed the European crown last month.
But as one twitter account noted a curious similarity between De Gea and Karius, a Sunderland supporter quickly added former Black Cats stopper Lee Camp into the 'crap hair' club which could explain the gaffe prone characteristic which has blighted the trio.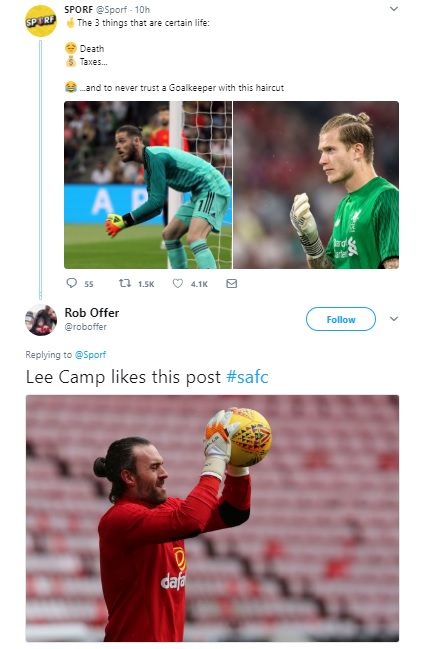 Camp joined Sunderland in the January transfer window and quickly managed to surpass the earlier efforts of his terrible teammates, Jason Steele and Robbin Ruiter, in becoming roughly the worst goalkeeper ever seen on Wearside.
In his 12 matches for Sunderland, Camp's blunders cost Chris Coleman's side points on five distinct occasions and his poor positioning and lack of command in the box made a game against the Black Cats great fun for opposition attackers.
But who knew it was all down to his hair? No one is suggesting Lee Camp is in the same league as De Gea and Karius of course - he's far worse, pub-level football in fact - but is this a reverse-Samson-esque phenomenan which should be avoided by all goalkeepers in future?